5 uses for Google Chromecast
5 uses for Google Chromecast

Introduction

There are a number of uses for my new Google Chromecast. The sections below are my introduction to the product in Australia. There will be no unboxing type videos or discussion here. We all know what the product looks like - regardless of region.
So, what is Google Chromecast?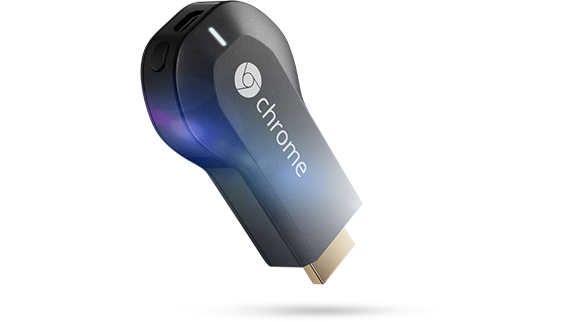 Chromecast, to the uninitiated, looks just like any run-of-the-mill HDMI screen-sharing dongle — and it is, in some small way. This little device wouldn't be worth a second look if it didn't have Google's brand and Google's software behind it. Chromecast is Google's way to get YouTube videos directly from your smartphone onto your TV, tabs from any Chrome browser onto your big screen, or music from Google Play Music playing on your TV's stereo system.
The idea behind Chromecast is simple enough — it's a Wi-Fi dongle that shows Internet content on your TV. The opportunities that it opens up are much wider and more nuanced, though, so it's blinkered to just write off Google's $49 streamer as a dumb Android screen-sharing stick. The fact that it's so cheap, I think, is actually making people think it's less powerful than it actually is.
Chromecast only uses your PC or phone or tablet as an intermediary between the dongle itself and the Internet; that's why you have to connect it to your home Wi-Fi during the setup procedure. With a straight shot to the Internet, 'casting' content to the Chromecast dongle basically only provides a pointer — cast a YouTube video from a Chrome tab or from the YouTube Android or iOS app, and the Chromecast talks straight to YouTube's servers and puts together the video in a tailor-made on-screen interface. Cast some audio from Google Play Music and you can control playback on your device, but you can also switch off the phone and playback will continue.
Because Chromecast works in this way, it's a lot smarter than any 'Smart TV' dongle that you might buy off eBay or from an electronics manufacturer without the might of Google. A screen-sharing dongle like Netgear's Push2TV may be even better at some tasks, as it directly mirrors your phone's display, but this approach also hampers it in providing a tailored and more direct-to-'net experience.
Reference:
http://www.gizmodo.com.au/2014/06/google-chromecast-australian-review-2/
1. Games

Draw it up - This is a good example for the whole family. Similar to other games like Pictionary and Draw with friends, Draw it up allows teams to compete against each other. You can choose your colour, team name and word difficulty.

Doodlecast - This allows you to select a word from a set of three words and you draw it.
Laptop
Television
Travel and flights - Flight radar - Check flight details before heading to the Airport.
Unread emails - A method of finding out the
A friend of mine has decided to set up a HTML page with these details all on one page. Similar to Google's iGoogle page.

3. Music

Google Play
VLC
Youtube
Karaoke Cast

4. Youtube

'Watch Later' - A feature that Youtube has set up so you can see video clips when you wanted. I have gone back into this section and found useful videos to watch. Some are documentaries, some are music video clips and some are even software releases (Snagit for Chrome).
5. Crackle
Trek Nation (Documentary)
TV shows - Diff'rent Strokes
Stir Crazy - movie
Apps:
AllCast
Cast Store
Chromecast
Vbukit
CastOnTV Free
Karaoke Cast
LocalCast
Other considerations:
Streaming Radio stations
Example - Nova FM Australia
Negatives
Pinching
I tried to pinch a picture on my mobile, however, that did not happen on the TV screen.
Rotation
I can screen rotate on the mobile, however, this too did not happen on the TV.
Where have you used your Google Chromecast?